SEO Glossary Recommends:
Recently Added Terms
Ads
us to see your advertising here.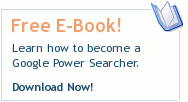 Brain Teasers
Cookie
information placed on a visitor's computer by a web server. While the web site is being accessed, data in the visitor's cookie file can be stored or retrieved. Mostly cookies are used as unique identifiers (i.e. user IDs or session IDs) to isolate a visitor's movements from others' during that visit and subsequent visits. Other data that may get stored in a cookie include an order number, email address, referring advertiser, etc.