SEO Glossary Recommends:
Recently Added Terms
Ads
us to see your advertising here.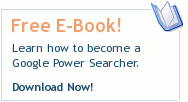 Brain Teasers
Cloaking
serving different content to search engine spiders than to human visitors. Cloaking is basically a "bait and switch" tactic, where the web server feeds visiting spiders content that is keyword-rich, thus fooling the search engine into placing that page higher in the search results. Yet when the visitor clicks on the link they are given different content, which may be totally unrelated. Search engines frown upon this practice and some will penalize or ban sites that they catch doing it.